This post contains affiliate links. Affiliate disclosure: As an Amazon Associate, we may earn commissions from qualifying purchases from Amazon.com and other Amazon websites.
This article showcases our top picks for the
Best Cycling Headphones
. We reached out to industry leaders and experts who have contributed the suggestions within this article (they have been credited for their contributions below). We are keen to hear your feedback on all of our content and our comment section is a moderated space to express your thoughts and feelings related (or not) to this article 
This list is in no particular order.
This product was recommended by Jane Hammitt from FastPeopleFinder
This is the best pair of headphones I've ever used. So they deserve it. I've tried beats, bose, and many others looking to fit my specific needs. I wanted a pair of bone conduction (witchcraft) headphones because I would wear these many hours daily for work and didn't feel comfortable with in ear headphones. These are super comfortable and I leave them on most of the day. Being able to hear Spotify playing while my daughter cries because she just ran into the wall full speed with a blanket over her head is a lifesaver. (pun intended) I wanted call quality for the other person on the line over sound quality because of those long calls on my phone or slack, skype, zoom etc.
---
This product was recommended by Chad Wyatt from Dealorium
I used to use basic Apple AirPods for cycling, but never felt comfortable, thinking they would fall out during faster 'sprints'. I switched up to the Powerbeats Pro purely by coincidence, and am very glad I did. The hook is the best part about these headphones, they have felt safe and secure on my ears every time. Being able to physically feel the headphones allows you to focus on cycling and not whether your earbuds will fall out. I wasn't expecting much for music quality due to wind, but these headphones still managed to provide clear tunes with a good amount of bass. Not to mention the fact that the soft rubber makes them comfortable to wear, no irritability from sweat or plastic rubbing against you. My opinion is the price is worth it, yes, you can get cheaper ones with a similar design, but you are paying for quality and comfort here.
---
This product was recommended by Lara Hartog from The Best Travel Gifts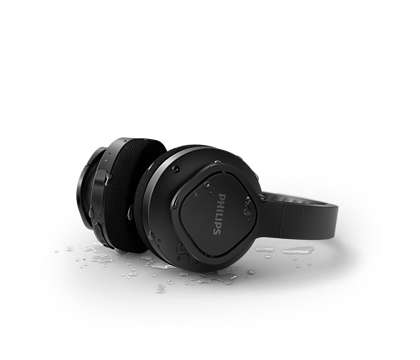 The Philips wireless sports headphones are one of the best headphones for cycling. The two main reasons for this are the washable earcup cushions and the build-in dust and water protection. The latter makes that you don't have to worry about potentially damaging your headphones as you're cycling in the rain. And the washable cushions are perfect to keep your headphones fresh even after they're soaked in sweat. The headphones are relatively tight on your head (but in a comfortable way, thanks to the soft cushions), so they don't fall off your head as you're cycling intensely. And lastly, the long playtime and wireless option make them the perfect headphones for exercise!
---
This product was recommended by Steven Walker from Spylix
True wireless earbuds are an excellent way to listen to music while riding inside. There are no cables to get in the way, and being able to ride with only one person at a time allows you to listen for longer. However, not all true wireless earbuds feel secure in your ear. When you're sprinting for the win in a Zwift race, nothing is more annoying than an earbud that feels like it's about to fall out. Jaybird Vista's truly wireless earbuds are completely safe. No matter what you do, they will not budge an inch. A tight seal in your ear provides that security, which has its own set of benefits.
---
This product was recommended by Steven Walker from Spylix
Sony has long been the king of low-cost, high-quality headphones, and that hasn't changed. While it is possible to spend a lot of money on fantastic headphones, not everyone wishes to do so. The Sony WI-SP600N is an excellent choice if you want both good and inexpensive. The two earbuds have a wired connection, but there is no wire to your device, so they aren't truly wireless. Along with that extra wire, you get longer battery life and the ability to hang them around your neck, making them more difficult to drop and lose while also saving money. These are the types of headphones that work.
---
This product was recommended by Shiv Gupta from Incrementors
The Sena R1 is a well-built helmet with built-in headphones that has received numerous safety certifications. The Sena smartphone app allows you to quickly change the features of your helmet. Use the mesh intercom to connect with your group, and listen to your favorite radio stations on the integrated FM radio. The intercom feature allows you to maintain a continuous discussion with three other riders up to half a mile away. Advanced noise cancellation technology ensures that your voice transmissions are clear and uninterrupted. You can use verbal commands to activate the helmet's features without ever taking your hands off the bar. Look no further if you're seeking a helmet that's not only safe but also ideal for group cycling.
---
This product was recommended by Phillip Villegas from Three Pedal Mafia
This open ear headphone employs the most advanced air conduction technology, allowing you to enjoy your music while remaining aware of your surroundings. Cycling, running, jogging, driving or going to the gym are all great activities for the open-ear design. This wireless headset can work for up to 5 hours on a single charge. You may exercise without worrying about sweat and rain if the waterproofing is good. It also includes a built-in microphone, allowing you to answer phone calls with excellent sound clarity while freeing up your hands.
---
This product was recommended by Sheila Eugenio from Media Mentions
There are a lot of great headphones on the market these days, but my personal favorite for cycling is the Anker Soundcore Life P2. They're lightweight and comfortable, and they have really good sound quality for the price. Plus, they're waterproof so you don't have to worry about them getting wet if it starts to rain while you're out on a ride.
---
This product was recommended by Kimberly Silva from FindPeopleFirst
This impressive Sony creation will provide you with the ultimate listening experience because it has a digital noise-canceling feature not found in most headphones. It provides an individualized, virtual soundproof experience that will elevate your cycling sessions to new heights. Consistent, high-quality music has the power to change your cycling, and this is what this headphone will provide you. They have simple touch controls, ergonomic features, and a long battery life of up to 30 hours and are also foldable for easy listening and cycling convenience.
---
This product was recommended by Kimberly Silva from FindPeopleFirst
If you're a cyclist with a hectic schedule, the Bose QC35 is a real boon because it comes with Alexa voice control and is Bose AR-enabled. It has a dual-microphone system that rejects noise, resulting in crystal-clear voice. The cutting-edge noise-canceling technology greatly reduces outside noise when traveling, cycling, or working. Whether on a plane or a busy street, it will get you to your thoughts, free from the distractions of the outside world. This is the most well-balanced headphone that any cyclist can own, consistently producing high-quality sound at any volume.
---
This product was recommended by Shiv Gupta from Incrementors
The huge 40 mm plush leather ear cushions come with excellent passive noise isolation speakers. With its specialized colour flashing, the Evolve2 65 MS can inform you as soon as you receive a call using Microsoft Teams, or even if you have a missed call, the MS Team light will alert you. New for this model is the ability to mute the microphone by simply lowering the microphone boom while on the phone.
---
This product was recommended by Ellie Walters from FindPeopleFaster
This Bluetooth headset is convenient and widely compatible with almost all devices. You can easily connect this headset with your phone or any other device. Its IPX 6 technology is specially designed to resist water, rain, sweat, and is also perfect for doing sports activities like cycling, running, and jogging, as it won't fall off. It also has 6D panoramic sound, a microphone, and an inbuilt 120 mAH rechargeable battery that lasts 5 hours when used continuously.
---
This product was recommended by Shiv Gupta from Incrementors
Music lovers are well aware of Bose's industry-leading sound quality, and their foray into wireless audio delivery is just as dependable. The Bose SoundSport earphones have a heart rate monitor that records data in real-time via the Bose Connect app. You no longer have to worry about adjusting the volume controls for each track thanks to Bose's active EQ technology. They use Bluetooth and NFC connectivity, have a 30-foot range and charge quickly. The battery life is about average at five hours, and the IPX4 rating is just about adequate. If sound quality is important to you, Bose offers excellent value for money.
---
This product was recommended by Madilyn Hill from TruePersonFinder Inc.
Krcong open ear Bluetooth features a comfortable, lightweight, flexible design, high durability, with 8 hours battery life. It has a unique cool breathing light design that makes outdoor sports safer like cycling, jogging, and riding. This headphone contains a premium quality sound profile and has bone conduction technology which delivers surroundings sounds while listening to music. The headphones are IPX certified, which can be wearable during rainy, snowy weather. This headphone pack has 2 sponge earplugs and 1 magnetic charging cable.
---
This product was recommended by Sunil Bhuyan from The Lost Gamer
The Skull-Candy blue-tooth headphones are connected wirelessly to your mobile phone and you can enjoy the music while riding a bicycle. The best thing about these headphones is that they get rapidly charges in around 10 minutes and their battery lasts for around 4 hours whereas it can remain on standby for up-to 22 hours. It also contains noise removal with a built in microphone and a volume control button.
---