This post contains affiliate links. Affiliate disclosure: As an Amazon Associate, we may earn commissions from qualifying purchases from Amazon.com and other Amazon websites.
My favorite season to mountain bike rolls around as fall colors arrive and the weather starts to cool down. Conditions are ideal to explore the trails; the woods are vibrant; summer fitness keeps the pain away and you can push yourself without overheating.
When I was in high school, I had a pretty common introduction to the sport. Because I had been riding bikes around the neighborhood growing up, I thought riding off-road would be easy.  As it turns out, mountain biking was much harder than I anticipated.  We went straight to the difficult downhill trail, I got in over my head and crashed over the bars more times than I care to admit.  I was scared and injured by the traumatic experience and swore off mountain biking because I didn't think it was fun. Decades later, I decided to give mountain biking another chance.  I was more coordinated, bikes had evolved, I rode a fun beginner trail and in no time, I was in love.
Fast forward to 2019, and now I'm the lead bike park supervisor at Massanutten Resort, which is a really cool four-season mountain resort in Virginia's Shenandoah Valley. Part of my role entails overseeing Massanutten's Mountain Bike Park, which offers an exciting experience for riders of any age or skill level. The park features a progression-based trail system with a lower lift that provides access to beginner and intermediate trails, while offering an advanced-intermediate jump line and expert single-track trails accessible from an upper lift.
Before the Bike Park, I was a ski patroller and snowboard instructor. My snowboarding background has contributed to the skills that I now apply to mountain biking. Here are a few of the key insights that I've learned: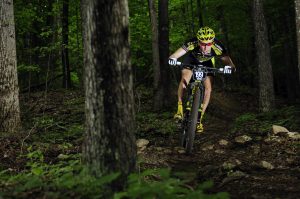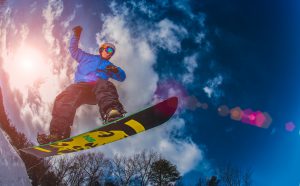 Credit: Massanutten Resort
Similarities Between Skiing and Mountain Biking
Skiing, snowboarding and mountain biking are gravity sports.  Learning to embrace gravity and work with your momentum underlies skiing and riding skills.  One fundamental skill for embracing gravity on snow or bikes is a good centered and balanced body position.  Our self-protection instincts often put us in a defensive position that disables good balance or control of our equipment.  Correct body position is one of the subjects we focus on most when teaching skiing, snowboarding or biking.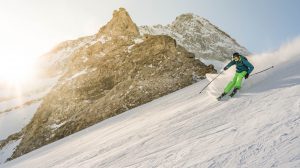 Credit: Willem De Meyer
Let's Get Technical
Momentum is the language of gravity sports.  Motion flow is a key element to be in control. Whether you're skiing, snowboarding or just running downhill, being able to accept gravity and work with it, is much more efficient and safer than trying to fight it. The ability to use and control your momentum allows you to maintain your balance and stability.
When it comes to technique, skiing and mountain biking share similar principles and movements that keep you in control and having fun.
Balance from good body position is perhaps the most fundamental skill that one needs to master for all gravity sports.  Proper descending body position requires the center of mass to be centered over the base of support.  As pitch increases the center of mass needs to move forward in order to remain centered.  All too often we see folks stuck in the "back seat", generally speaking their center of mass is too far back with hips and shoulders stacked over the rear half of the equipment.  This "backseat" position causes a lack of adequate speed and direction control.
Terrain awareness is another critical skill between skiing, snowboarding and mountain biking.  It teaches reactive decision making, fast reactions, and eye-body coordination. On your way down the mountain, you've got to scan with your eyes between where you are and where you're going.  Our brains tend to focus on things you need to avoid, making your eyes fixate on the obstacle.  We have to train our brains and eyes to focus on where we want to go, as this will keep you on-line.  Another vital component to terrain awareness is scanning your eyes to the horizon – your equilibrium needs this frame of reference to maintain balance and stability. Train your eyes and brain to process obstacles and hazards by acknowledging them while focusing on the desired line around the danger. Use your peripheral vision to see the obstacles and your mid-field of view to see the desired line.
Whether you are just getting started or need to polish up on your technique, we have several experienced instructors to help you out. Our Pathway Program is the perfect introduction to mountain biking and covers how to use your equipment properly and maintain a good body position. Our instructors teach you the proper braking, cornering, and direction control skills, as well as give you a tour of the trails so that you can familiarize yourself with the park. Private skill clinics and children's programs are also available.
Even experienced riders have room to improve. I strongly advise private lessons for any level of existing riders: advanced beginners, intermediates and experts alike.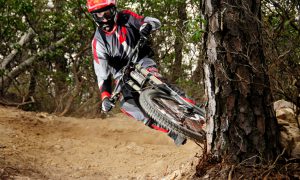 Credit: Massanutten Resort
Equipment Matters
Just like with skis and snowboards, I recommend visiting your local shop and explain what you're looking for in a bike so that they can provide you with their best recommendation on equipment. There is not a perfect ski or mountain bike for one person. I advise beginners to rent equipment first and try out the inventory that is available to then develop a preference.
For Bike Park riding, some equipment requirements you should take into consideration include a bike designed for mountain biking (no hybrids, BMX or road bikes) with front and rear disc brakes, no tires wider than 3.5", a full face helmet, fully enclosed shoes, gloves, elbow and knee pads. These are all essentials that will keep you protected throughout your ride. At Massanutten's Bike Shop, we offer on-the-spot repair services for minor mechanical issues.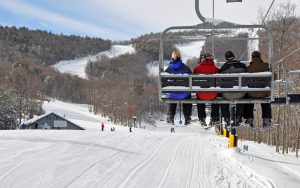 Credit: Massanutten Resort
Give Me a Lift
Riding a ski lift for the first time can be a little intimidating, but with a little bit of practice, you will be a pro in no time! At times, depending on the park, you will be able to use the same lift for both snow sports and mountain biking.
All of Massanutten's chairlifts that service our easiest terrain are designed with beginners in mind. The below instructions may be helpful for you.
Loading into the chairlift
While in the lift line, skiers should remove pole straps and use poles to move forward in lift line while keeping skis straight. Snowboarders should remove rear foot from snowboard binding and use rear foot to move the snowboard.
Once you get to entrance gate, skiers should put poles in one hand, holding poles approximately halfway down shaft.
When it is your turn to load, put gentle pressure on the gate using legs, hips or whatever part of the body contacts the gate first (try not to use your hands).
As gate opens, let your skis or snowboard slide down to moving carpet. You do not need to pole or shuffle; gravity takes care of getting you to the carpet. Do not wedge, the carpet will stop your skis or snowboard.
Keep skis, poles and snowboard still while on the carpet.
Glance over your shoulder for the chair. When the chair bumps your legs, sit down on the chair.
Once you are seated on the chairlift, lower the bar.
Unloading the chairlift

As you approach the unloading station, keep tips of skis and snowboard up. Keep your skis straight so they do not cross. Keep poles in one hand.
Raise bar.
Stand up, lean forward, and ski or snowboard off the chairlift
The process to ride the chair lift for mountain biking is slightly different but essentially requires you to roll the bike up to the lift carriers on its rear wheel and put the front wheel in the carrier. Then, you sit down on the chair coming up behind you, pick your feet up and enjoy the view. Once you get to the top, the lift attendants will pull your bike off the lift and park it to the left of the exit ramp.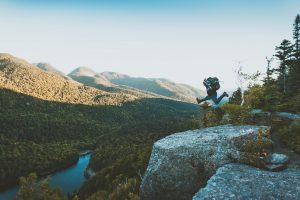 Credit: Jake Ingle
No Risk, No Reward
Although there are risks involved with each of these sports, there are ways in which you can manage them to make safe decisions. Your knowledge, decisions and actions contribute to your safety and that of others. Here are the best tips that I can give beginners that helped me throughout my journey:
Keep your eyes peeled! When you're riding/skiing, you go where you look, so look where you want to go! Visually scan the trail downhill for obstacles and find the line that looks good. Don't get stuck on every little detail—look for the smooth way down, and you will begin to feel it.
Observe all posted signs and warnings. Keep off closed trails and out of closed areas.
Don't slam on your brakes! Instead, try and keep a gradual, consistent modulation on both brakes. Mountain bikes typically have very strong stoppers, so use them with care.
Stand up on level pedals. When going downhill, stand on your pedals and keep your butt off the seat. Keep one foot forward and one foot back, that way your feet are level and away from the ground. Not only does it keep your feet off the roots and rocks, but it provides a nice platform for an athletic stance.
---
By Scott Wootten
This piece was created in conjunction with Massanutten Resort.
Promoted by Radnut.com